GIF It: Fernando Torres claws Jan Vertonghen's face (Spurs vs Chelsea)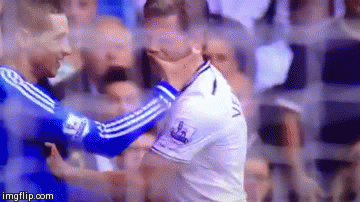 Chelsea striker Fernando Torres was fortunate not to receive a red card after scratching the face of Tottenham defender Jan Vertonghen.
The pair clashed and exchanged words after a needless trip by Torres and Vertonghen.
The Spaniard was booked for the initial foul, but he's lucky the officials missed his attempts to pick the Spurs man's nose with his thumb and the subsequent scratch across the face.
From a football point-of-view, Torres appears to have plenty of fire in his belly and lots of application.
Is the Special One going to get the best from him?